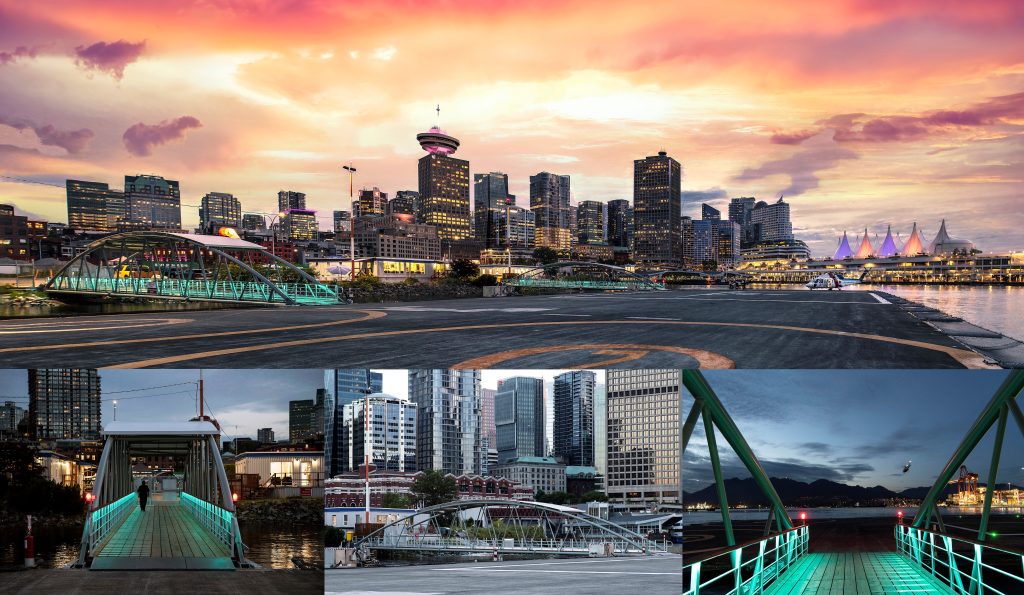 With support from the Province of British Columbia's Airport Assistance Program ("BCAAP") under the BC Ministry of Transportation and Infrastructure, Pacific Heliport Services ("PHS"), a wholly owned subsidiary of Helijet, has completed a major $1.7M upgrade of the public use intermodal heliport in downtown Vancouver, on the south shore of Burrard Inlet.
The upgrade project entailed the design, fabrication and installation of two primary Bridgeway connections to the floating heliport, along with numerous related facility and shoreline improvements within the heliport lease areas. The project construction was unique in that no in-water works were conducted throughout the project term, mitigating environmental concerns to marine life and the natural habitat.
Located within walking distance of Vancouver's downtown core and part of a transportation hub with connections to SeaBus, SkyTrain, a bus network, and a cruise ship terminal, the heliport plays an instrumental role in facilitating government business, private sector commerce and tourism offerings.
The heliport also provides emergency life-saving medical services for the local region. It is certified by Transport Canada for both day and night operations, serves the BC Ambulance Service for St. Paul's Hospital and the North Shore's Lions Gate Hospital and is on the Critical Infrastructure asset list maintained by Emergency Management British Columbia (EMBC).
Seventy-five per cent ($1,279,000) of the project financing for the $1.7m airside build was provided by BCAAP, with Pacific Heliport Services providing the remaining 25 per cent. The project was a design-build contract awarded and completed by FRB Construction Systems, a company owned, operated and based in British Columbia.