Air Transat has partnered with British low-cost carrier easyJet and its Worldwide by easyJet connections service web platform.
Air Transat and easyJet flights can now be booked through one platform, simplifying the travel process and increasing the number of destinations available in Europe and Africa to Air Transat's customers flying through London Gatwick Airport.
Passengers transiting through London Gatwick who book a flight through the Worldwide by easyJet platform will have access to a wide range of flight options to Canada, in addition to those in Europe and Africa. The minimum connection time is two hours and thirty minutes.
Additionally, passengers benefit from GatwickConnects, a service offered by London Gatwick Airport, which offers flight protection between Air Transat and easyJet and simplifies baggage handling as well.
Passengers can check in their bags at the GatwickConnects counter located in the baggage reclaim area and pick up their boarding pass for their next flight.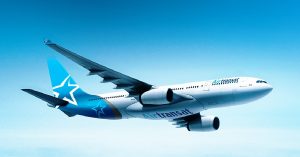 Air Transat is not the only Canadian carrier to work with Worldwide by easyJet. In September 2017, easyJet announced WestJet as the launch partner for the connections service.