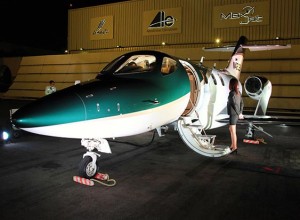 The HondaJet, Honda's first commercial aircraft, has received type certification from the Civil Aviation Safety Authority of Mexico, the Dirección General de Aeronáutica Civil.
Honda's light jet will make its debut at the 2016 Aero Expo, Mexico's most prominent business aviation event, which is being held from March 16-18, 2016.
"Receiving aircraft validation in Mexico is an important milestone for Honda Aircraft Company, paving the way for the start of HondaJet deliveries in Mexico," said Honda Aircraft Company President and CEO Michimasa Fujino.
To provide sales, service and support for customers in Mexico, Honda Aircraft has partnered with Aerolineas Ejecutivas—the largest executive aviation company in Mexico. Aerolineas Ejecutivas has been a pioneer in business aviation services since it introduced the first jet for executive charter service. The company's expansive footprint includes operations in major cities including Toluca and Monterrey.
The HondaJet incorporates many technological innovations in aviation design, including an Over-The-Wing Engine Mount (OTWEM) configuration that improves performance and fuel efficiency by reducing aerodynamic drag.
The OTWEM design also reduces cabin sound, minimizes ground-detected noise, and allows for the roomiest cabin in its class, the largest baggage capacity and a fully serviceable private aft lavatory.
The HondaJet is also equipped with a Honda-customized Garmin G3000 glass flight deck, which provides its pilots with a more user-friendly visual scan of flight information in a concise format that contributes to improved situational awareness and safety.
The HondaJet received U.S. Federal Aviation Administration type certification on Dec. 8, 2015, and the company began deliveries on Dec. 23, 2015. The HondaJet is manufactured at Honda Aircraft Company's world headquarters in Greensboro, N.C.