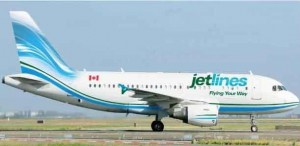 Canada Jetlines, which plans to launch a low-cost carrier in mid-2015, has signed a purchase agreement with Boeing for up to 21 B737 Max aircraft.
According to Jetlines, the deal includes five firm orders, along with purchase rights for an additional 16 aircraft.
Delivery of the aircraft is to begin in 2021, said the Vancouver-based company.
"This Agreement with Boeing is a major milestone for Jetlines," said Jim Scott, CEO of Jetlines. "We are thrilled to be partnering with Boeing. The Agreement provides Jetlines access to leading edge aircraft technology in the future."
Vancouver-based Jetlines plans to operate as an ultra low-cost airline, stimulating passenger demand through competitive airfares and generating revenue from the sale of ancillary products and services onboard its aircraft.
"Boeing is proud to partner with Jetlines as it begins a journey to offer low airfares to passengers across Canada," said Brad McMullen, vice president of North America Sales, Boeing Commercial Airplanes. "The 737 MAX 7 is perfectly suited to the airline's needs and we appreciate the confidence Jetlines has in the airplane."
The Boeing 737 MAX brings advanced engine technologies to build on the strengths of the Next-Generation 737. According to Boeing, airlines operating the 737 MAX will see a 14 per cent fuel-use improvement over today's most fuel-efficient single-aisle airplanes.
Jetlines intends to select routes which avoid direct competition with existing carriers in Canada and focus on cost discipline in order to keep operating costs low.