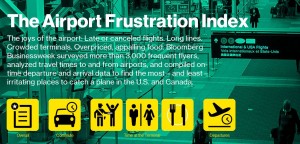 YVR has been named the least frustrating airport for travellers in North America, according to Bloomberg's Airport Frustration Index.
Bloomberg's rankings are based on, on-time departures and arrivals, travel time to downtown and back, washrooms, security lines and shopping amenities.
Overall, YVR received the lowest (best) Frustration Index score (17.6 out of 100).
Four other Canadian airports also made the list: Calgary International Airport was ranked 4th, Ottawa International Airport was ranked 8th, Montreal-Pierre Elliot Trudeau International Airport was ranked 20th and Toronto Pearson International Airport was ranked 30th.
YVR was also recently voted one of the best airports to sleep in, one of the world's best airport bike paths, and Skytrax awarded YVR with Best Airport in North America and Best Airport in the World for its size category of 10 to 20-million passengers.