The first Airbus A350 XWB (eXtra Wide Body) recently completed successfully a series of indoor ground tests including stability tests on 'movable' elements such as rudder, elevators, ailerons and wing spoilers and landing gears extraction/retraction.
Next steps will include three planned families of tests: Fuel tanks testing—including levels, flows, sealing and internal fuel transfer functions; pressure testing of the fuselage; and radio equipment testing.
The A350 will be the first Airbus with both fuselage and wing structures made primarily of carbon fibre-reinforced polymer.
Airbus planned to use lithium-ion batteries in its new A350 aircraft, but with the root causes of two recent incidents with lithium-ion batteries in Boeing 787 aircraft still not explained, Airbus has reverted to the proven and mastered nickel cadmium main batteries for its A350 XWB programme at Entry into Service (EIS).
Airbus does not expect this decision to impact the A350 XWB Entry Into Service (EIS) schedule.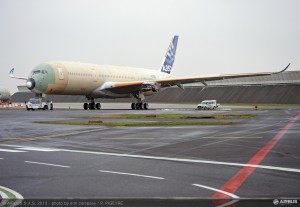 Simultaneously, Airbus has also launched additional maturity studies on Li-ion main batteries behaviour in aerospace operations and will take on board the findings of the ongoing official investigation.