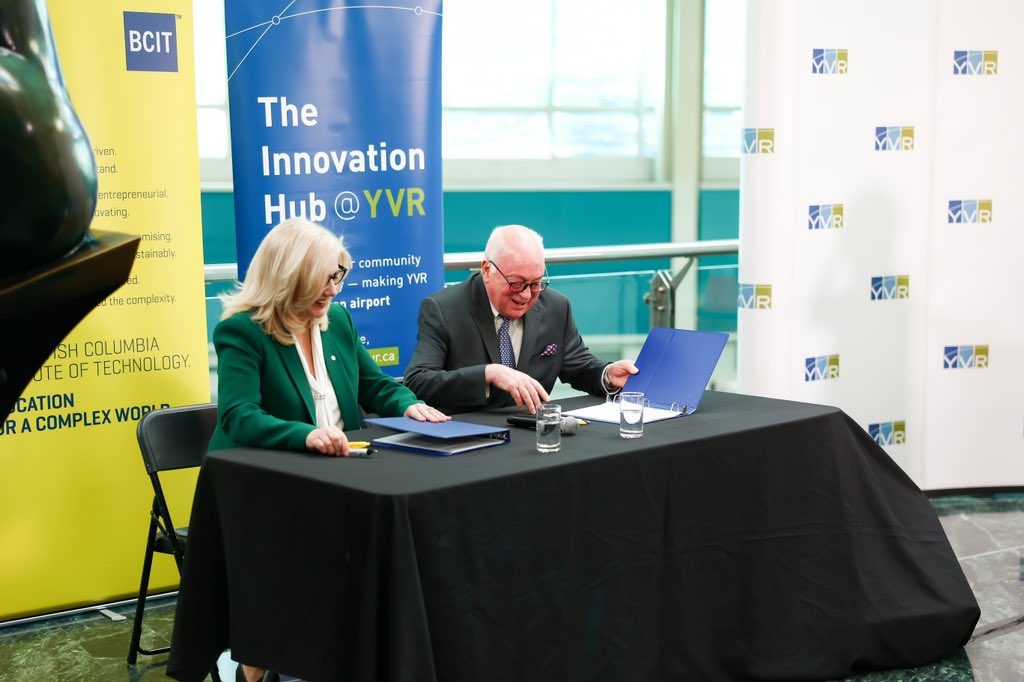 On Feb. 21, 2023, the Vancouver Airport Authority and the British Columbia Institute of Technology (BCIT) signed a Memorandum of Understanding (MOU) that strengthens the existing partnership between the organizations.
The foundational principle of the MOU is to create real-world opportunities for BCIT students to learn, collaborate and apply their industry-driven ideas within the innovation and technology environment at YVR through the airport's Digital Twin and other initiatives under its Innovation Hub.
BCIT and YVR first came together in 2021 under an MOU focussing on the Centre for the Internet of Things (IoT). Through this collaboration, YVR and BCIT identified areas for applied research and ultimately established a living lab for students to respond to an industry challenge at YVR. As a result, BCIT students created a digital solution to monitor the water quality at outfall stations on Sea Island in real time, automating a manual and time-consuming process.
Other collaborations, such as those focused on data analytics, are industry-driven examples of digital transformation that further demonstrate how BCIT and YVR are providing solutions to real-world problems.
The new MOU will allow the organizations to take on broader innovation projects that aren't limited to IoT, such as integrating YVR's Digital Twin with BCIT's Smart Campus Development to explore potential use cases for process efficiencies, smart design and wayfinding.
The Innovation Hub @YVR is a platform that develops, tests and trials new processes and sustainable technologies in collaboration with the community, such as the deployment and continued development of YVR's Digital Twin and the recent partnership with the Province as part of the Integrated Marketplace Initiative to support made-in-B.C. tech companies.