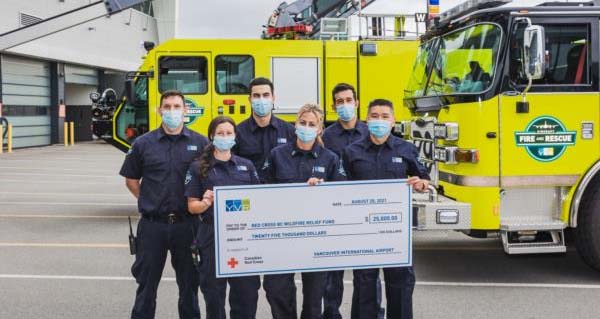 The Vancouver International Airport (YVR) has donated $25,000 to the Canadian Red Cross and the extraordinary efforts being made to keep residents of British Columbia affected by the record wildfire season safe.
The funds donated by YVR will help in providing emergency shelter, financial assistance and basic needs (such as groceries, clothing, baby products and gas) for affected households.
"YVR is B.C.'s airport and we are committed to serving our community," said Tamara Vrooman, president & CEO, Vancouver International Airport. "We recognize there are so many British Columbians affected by the wildfires and our team felt it was important to contribute to relief efforts for people impacted across the province. We will continue to provide critical infrastructure and assist however we can as an airport to ensure we are providing support for communities across B.C."
The $25,000 donation comes from YVR's community investment program, which provides funding for several local organizations through donations and scholarships.
The Canadian Red Cross recommends the following if their is a wildfire in your area:
Monitor trusted news & weather sources, listen to local authorities
Have an emergency plan & kit
Keep your vehicle fueled
Evacuate, if told to do so, and bring your kit
For more tips, visit bit.ly3e50pyj #BCWildfire