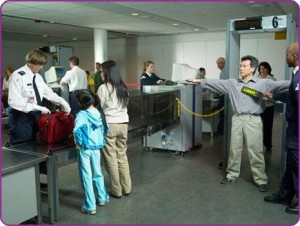 Screening officers at Canada's major airports screened more than 51-million passengers last year, according to the Canadian Air Transport Security Authority (CATSA). While it's not uncommon for CATSA officers to see bottles of liquid larger than the permitted 100ml or pocket knives in passengers' carry-on bags, some other discoveries were noteworthy.
Not-so-lucky charm. Many people travel with lucky charms. For some it's a rabbit foot, for others a horseshoe and in the case of one Whitehorse passenger, a "lucky" knife. An alarm at the metal detector led screening officers to search the passenger's shoe, revealing a knife concealed in the sole. The passenger told screening officers the knife was there for good luck, which turned into bad luck when the knife was intercepted.
Number of butterfly knives needed. A passenger at YVR clearly thought 22 was the magic number, which screening officers discovered when they found them in his bag, along with eight brass knuckles and four fireworks. The items were confiscated by police and the passenger arrested.
Explosive situation. A World War II aficionado's travel plans were halted after the x-ray identified what looked like a grenade. A subsequent search and police intervention found that the item was a replica of a World War II grenade. Neither explosives nor replicas thereof are allowed onboard aircraft.
Not packing light. Screening officers in Vancouver made a surprising discovery when a passenger went through the metal detector: a 15-centimetre hunting knife. In the course of the search, they also found 30 grams of marijuana and a retractable steel baton. Police were called and the passenger was arrested.
Stunning catch. A Toronto-Pearson passenger decided to bring his personal protection device in his carry-on bag. When the shape of a gun was observed at the x-ray, screening officers inspected the bag and found a prohibited stun gun. Stun guns are not only banned from aircraft but also illegal to possess under Canada's Criminal Code.
Alarming money belt. A passenger set off the alarm when he walked through the metal detector at Toronto-Pearson International Airport. Screening officers subsequently found multiple rolls of coins in the waistband of his pants. Coins are allowed in carry-on bags, which would have been a more comfortable way and less alarming way to transport the money.
In addition to being a security risk, these findings, along with thousands of others that were discovered, generated extra screening and sometimes even police intervention that delayed the screening process. Knowing what can be taken on a plane makes security screening faster and easier for everyone.
For more tips on how to ensure a screening process that is completed as quickly and efficiently as possible, visit CATSA at catsa.gc.ca and on Twitter at @catsa_gc.