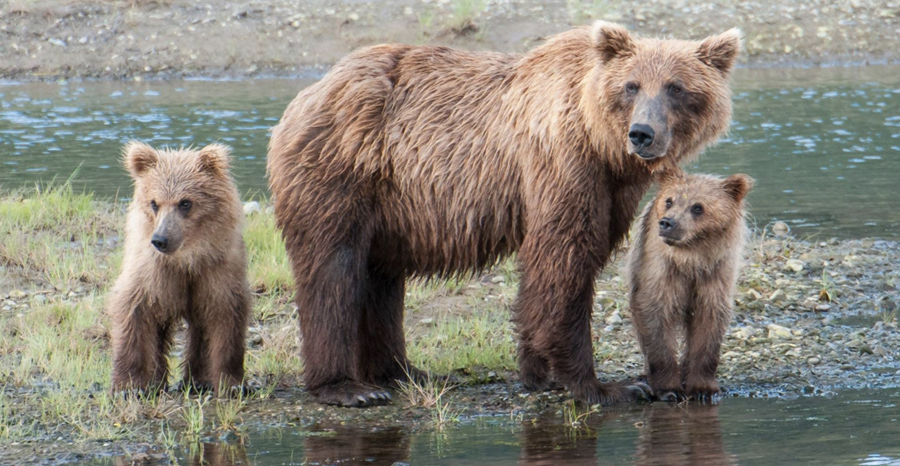 Natural Habitat Adventures, the conservation travel partner of the World Wildlife Fund, is introducing an exclusive new offering: Nat Hab's Alaska Bear Camp, adding to its portfolio of award-winning nature and wildlife expeditions worldwide.
The four-night, five-day departures for this Bear Camp adventure will run from May 24, 2022, to August 23, 2022, beginning and ending in Homer, Alaska.
This immersive experience with brown bears provides a genuine encounter with the Alaskan wilderness in an exceptionally private and secluded setting. Guests view bears up close in an intimate context while helping to preserve and protect crucial bear habitats through the economic value of their presence.
The adventure begins with a scenic flight aboard a privately chartered bush plane over Cook Inlet, passing snow-clad volcanoes and jagged glaciers before landing on the beach next to the camp. Surrounded by 20 acres of private land, the base camp sits on an inholding within Lake Clark National Park, renowned for some of the best bear viewing in the world.
Alaska is home to 95 per cent of America's brown bear population, and Lake Clark National Park provides critical habitat sustained by the region's legendary salmon runs. A rich bear habitat surrounds Nat Hab's private fly-in camp, and bears are often on view directly in front of the camp, on the shoreline and in the surrounding meadows.
Despite the camp's remote location, comfort prevails. Spacious, well-appointed weatherproof tent cabins on elevated decks include heaters and cozy beds. Hot showers are available in a shared bathhouse. Meals are a highlight, created by a resident chef who makes the most of fresh local seafood and other regional fare.
Bear Camp accommodates just 14 guests who will enjoy multiple bear-viewing opportunities from the camp's two elevated viewing platforms and during guided walks with highly experienced Expedition Leaders.
Departures start at US$4,895 per person based on double occupancy. Price includes accommodations, the services of Nat Hab's professional Expedition Leader(s), local guides and camp staff, all meals from dinner on day one through breakfast on the final morning, most gratuities, airport transfers on day one and the last day, all activities and entrance fees, and all taxes, permits and service fees.
For more information about Natural Habitat Adventures' worldwide nature expeditions, visit www.nathab.com.