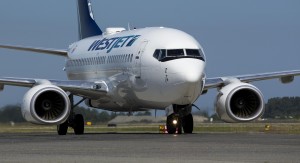 Starting March 15, 2018, WestJet will offer a new, three-times weekly service to Mexico City International Airport (MEX) from YVR. This non-stop service will provide passengers travelling through YVR with more choice and will support YVR's vision to connect Asia with the Americas.
"This is excellent news—YVR greatly values our partner WestJet and their efforts to link our airport with key destinations around the world," said Craig Richmond, president and CEO, Vancouver Airport Authority. "Mexico City is rich in experiences, offering incredible tourism options and a broad range of business opportunities. It's also one of Latin America's key connecting hubs—providing passengers with access to amazing destinations. We are excited to work with WestJet to ensure this new route is a big success."
The service will further drive passenger growth in this key region, a strategic priority for YVR following the Canadian government's recent removal of visa requirements for Mexican visitors to Canada. Latin America was the leading market for YVR in the first half of 2017, increasing 25 per cent over the same period in 2016. YVR anticipates this market to continue its robust growth with the help of WestJet and its other partners.
"We are proud of our investments in Vancouver International Airport as we continue to grow our west coast hub," said Ed Sims, WestJet executive vice-president commercial. "These flights provide choice and competition for Canada's business and leisure travellers and will also provide Mexican visitors with an affordable option to discover our country and Mexican businesses to increase commercial ties."
Through annual operations and tourism, the new service will generate $6.3-million in total economic output and will contribute $3.3-million in Gross Domestic Product. It will also provide opportunities for B.C. businesses to reach new customers, suppliers and investors throughout Mexico and Latin America.