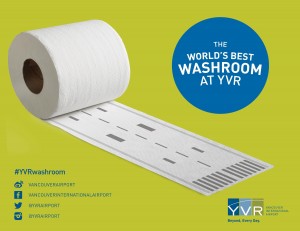 YVR's Washroom Committee is on the lookout for ideas on how to build the world's best washroom and has launched a contest that aims to solicit ideas from the travelling public on sustainable, innovative and accessibility features and amenities they would like to see included in the washrooms at YVR.
"YVR was proud to have been considered for Canada's Best Restroom in 2014," said Don Ehrenholz, vice president engineering, Vancouver Airport Authority. "One might think after receiving such lofty praise for our loos that we would be content to rest on our laurels, but at YVR we are always aiming to improve, and that includes our washrooms."
Since travellers from around the world pass through the airport, at some point they will have seen a bathroom feature elsewhere that they might like implemented at YVR.
"We want to hear all their ideas," said Ehrenholz.
YVR's Washroom Committee has worked together to ensure consistent features in all upgraded washrooms throughout the airport in order to maximize use and accessibility. Features include hands-free sinks and towel dispensers, change stations, lowered countertops for accessibility and spacious stalls with hand rails. Distinctive mosaic tiling, terrazzo flooring, and bright and ample lighting make the space modern and calming. And, most importantly, increased air flow provides a more pleasant olfactory experience overall.
"As we work hard to ensure our passengers have an exceptional experience while travelling through our terminal, we look at all the elements that contribute to that experience," said Ehrenholz. "From food and beverage options to directional wayfinding to shops and services, washrooms are no exception. Our customers regularly tell us that washroom cleanliness and accessibility greatly contribute to their positive experience at YVR."
Ideas for the World's Best Washroom contest can be submitted to YVR through Facebook, Twitter and Instagram using the hashtag #YVRwashroom or by email to worldsbestwashoom@yvr.ca.
Please do not write your ideas in the washroom stalls!
More information on the contest can be found at yvr.ca/washroom.
Successful ideas will be implemented into Domestic Terminal washrooms on Level 2 set for upgrades in 2016.
Travel vouchers for flights from YVR will be awarded to the winning idea from each category: Innovation, Accessibility and Safety.
The World's Best Washroom Contest runs until July 31, 2015; winners will be announced in August, 2015.