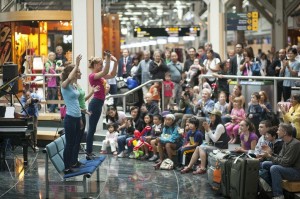 This summer, visit YVR for the ultimate staycation during YVR Take-Off Fridays. Stop by YVR any Friday from July 5 to August 30 between 9am and 3pm for lots of kid-friendly activities such as face painting, balloonists, caricaturists and YVR mascots.
On Friday July 12, don't miss out on YVR Take-Off Fridays first-ever Paper Airplane Day, featuring a paper airplane folding workshop and a competition between 11am–12:30pm led by the airport's very own paper airplane expert.
If you miss out on Paper Airplane Day, you'll still have the chance to follow the expert's instructions at the paper airplane stations.
Another new offering this year is a guided pre-security tour of YVR starting at 10am each Friday during YVR Take-Off Fridays. Space is limited so arrive early at The Spirit of Haida Gwaii: The Jade Canoe sculpture to ensure your spot.
Kids and adults alike can explore YVR's Public Observation Area, which includes a number of interactive displays and high-tech telescopes to help discover more about Sea Island and YVR.
YVR Take-Off Fridays offers free samples, great music, $10 lunch specials and exciting prizes for people of all ages.
Each YVR Take-Off Friday features different entertainment.
For the most current and up-to-date information and schedule, please visit yvr.ca.